Tuesday, February 3, 2009
How I Met Your Mother: Possimpible
Season 4 Episode 14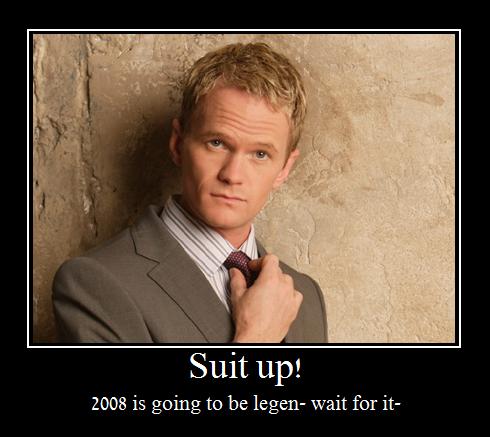 Monday's HIMYM was an interesting romp into the pain that is getting back on the horse and going out to get a new job. We see just what levels one needs to go to land a job. Although probably the most unreal way, Barney finds Robin a job and saves her from deportation.

Our cold open is of the gang watching the New York lotto. Barney is infatuated with the lotto girl and uses each number in the lotto as a euphemism of how this lotto girl came to be and what he was gonna do with her.

We return to find out Robin has seven days to find a job or be forced back to her homeland, the great white north (and I don't mean the four feet of snow I am buried in). Robin shows the group her audition tape which is, let's just say, less than par. Ted, Marshall and Lilly discuss some interesting accomplishments that they have put on their resume. Ted was a Program Director for an underground college radio station. This was extremely funny to yours truly as I knows the pains of trying to get people to give two dimes about a college radio station. Marshall tells us of his dunking prowess. Lily has an accomplishment I can only dream of having. She has held the New York hot dog eating record(

Ed. Note: Lilly's extended "hot dog belly" was a great way of hiding the bun in Alyson Hannigan's oven

).

Barney then shows the rest his personal video of how he landed jobs. The video shows absolutely no signs of Barney's ability to do any job, but it does wrap up with probably the best song ever.

Barney tells us this video has landed him eleven job offers which he all turned down. Another Barneyism is shown as Barney tells us the power of making up your own words (Hence the title of this weeks episode).

Robin, being so desperate, she decides to take Barney up on his offer to make her a video like his. Robin goes to Barney's apartment and decides the video may not have been her best bet and goes back to the job search. She then goes to the New York lotto to audition for a lotto girl. The auditioners take the job a little too seriously and Robin fails to get the job.

The final scene shows Robin coming to terms that she will be returning to Canada and begins her goodbyes with her New York family. Barney enters to let Robin know he had made a video of the footage he had and received numerous offers from television stations. After turning down two stations on Robins behalf, Barney gets Robin a job on a morning talk show.

Monday's episode gave us a great Barney video and a song that will probably stay in my head for a few weeks to come. While not leading us anywhere near a conclusion to how Ted met his wife, it does give a stronger bond to the romance that may come between Robin and Barney.

I give it 3 and a half AWESOMES outta 4.


Posted by

Garrett
at 1:29 PM